Ximplifi, LLC. Adds Owner Portal to Automation Suite for Short Term Rental Accounting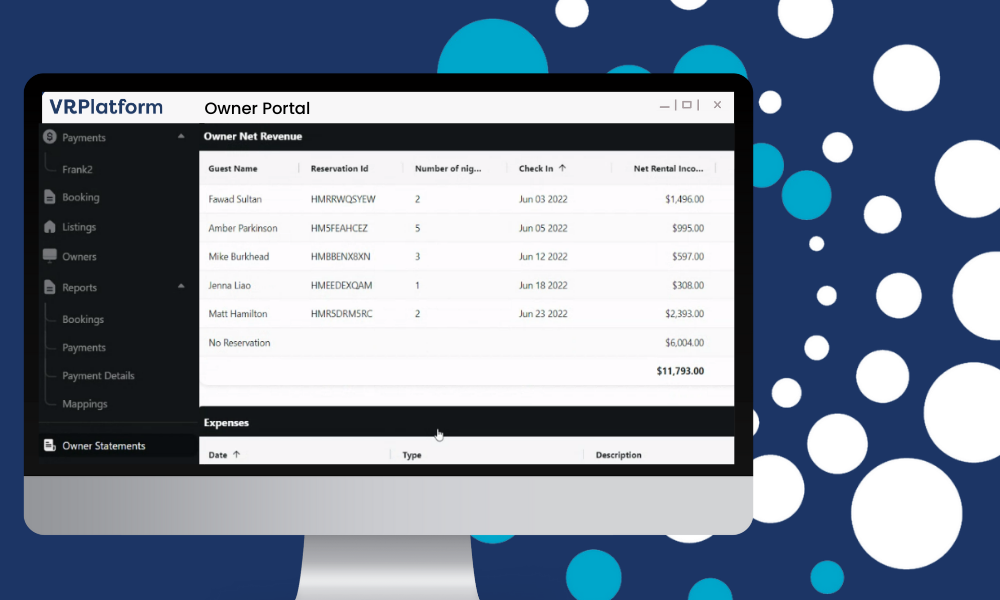 Ximplifi's new owner portal helps property managers overcome the challenges around monthly owner statements.
Nashville, TN, US – Ximplifi, LLC., an accounting solutions provider specializing in vacation rental management, announced today the launch of the Owner Portal, a feature now available to property managers using its VRPlatform software. The new functionality addresses one of the biggest pain points of vacation rental management: preparing, sending, and reviewing monthly owner statements. 
One of the main drawbacks of existing owner statement modules is that reports lack flexibility and the level of detail owners want. Add in the accounting challenges of reconciling owner revenues, recording owner expenses & management commissions, and the entire owner statement process becomes painful, slow, and lags weeks after month-end.
With the Owner Portal now a part of VRPlatform, managers can combine the automation of recording guest invoices, payments and management commissions with customized monthly owner statements and owner payouts to show exactly what their owners want, all from one central and secure hub. 
Watch now: VRPlatform | Owner Portal sneak peek
VRPlatform is an integration software that allows data to automatically sync from the property management system (PMS) and other business tools into a company's accounting software, providing greater efficiency and visibility in financial reporting for vacation rental management.
The Owner Portal builds on this existing automation to give property managers a new way to deliver monthly owner statements. Cloud-based and interactive, it brings reporting into the 21st century with custom groupings and item descriptions, so property managers have more control over both the content and the design of owner statements.
"Our team at Ximplifi is continuously looking for and developing new integrations with industry partners. Since our clients' financial challenges are always evolving, that means we are too."
Property managers who use VRPlatform with a supported PMS and accounting platform will receive support from Ximplifi to configure the owner portal for their business. During the setup process, Ximplifi's onboarding team works with each client to map data from their accounting system through VRPlatform and into the portal, so the automation can grab the correct data to populate the report. The onboarding team will also help customize the content and appearance of the portal, so that brand touch points remain cohesive for owners.
Today, VRPlatform has a subscriber base of more than 90 property management firms, and Ximplifi hopes to see that number go into the triple digits.
When asked where the idea to build out the new portal functionality came from , Ximplifi Founder and CXO, Jesse Ehret said:
"We work hard to give our clients real-time insight into how their business is performing and give their owners accurate, timely owner statements. Providing a flexible owner statement in a secure portal that's easy for owners to access and streamlines the owner payout process was a no-brainer. And ultimately it's just the start. We are already working hard on developing an owner dashboard that will show future month's revenue, home statistics and KPIs in interactive charts and graphs."
The addition of the portal to VRPlatform means owners can be notified as soon as their monthly statements are ready and access user-friendly reports anytime, anywhere.
For property managers, a key benefit of having their accounting system integrated with the Owner Portal is the ability to track when owner funds are transferred and verify that amounts are accurate down to the penny.
VRPlatform has enabled property managers to integrate data across their business using industry-leading applications including Hostfully, Track, Guesty, Hostaway, Hospitable, Booking.com, Airbnb, VRBO, Stripe, Breezeway, QuickBooks Online, Sage Intacct, and more to come. According to Ehret, "Our team at Ximplifi is continuously looking for and developing new integrations with industry partners. Since our clients' financial challenges are always evolving, that means we are too."
About Ximplifi
Founded in 2018, Ximplifi is a new-age accounting firm offering a suite of accounting and software solutions for the hospitality and short term rental management industry. In addition to offering a full suite of outsourced accounting services, CFO advisory, and consulting on various accounting platforms, Ximplifi is also the creator of a proprietary software called VRPlatform™ which integrates various property management systems with professional accounting software for more accurate and efficient short-term rental accounting.
10 Signs You've Outgrown QuickBooks
Frustrated with QuickBooks?
Download my article to determine if you need a more sophisticated system to meet your needs.
Contact Us.
Get in touch with us and we will get back to you.